Description
Chasm is a procedurally-generated Platform Adventure currently in development for PC (Win, Mac, & Linux) and Playstation 4. Taking equal inspiration from hack 'n slash dungeon crawlers and Metroidvania-style platformers, it will immerse you in a procedurally-generated fantasy world full of exciting treasure, deadly enemies, and abundant secrets.
History
When a small mining community falls silent, a young soldier named Daltyn is sent to investigate. Upon arriving in the remote mountain town of Karthas, he discovers that paranormal forces have sealed the town off from the outside world. Now trapped, Daltyn is left with no option but to explore the mines below the town and uncover the source of the disturbances. Six huge procedurally-assembled areas await, each lovingly crafted in a retro pixel art style. Help Daltyn gain new abilities and equipment, evade dangerous traps, and defeat hordes of deadly enemies in order to save Karthas - and possibly the world!
Features
Explore six massive areas procedurally-assembled from hand-crafted rooms
Enjoy challenging retro gameplay and authentic pixel art (384x216 native res.)
Battle massive bosses and discover new abilities to reach previously inaccessible areas
Customize your character by equipping armor, weapons, and spells
Coming to PS4 and PC (Steam and Humble versions for Windows, Mac, & Linux with full gamepad support)
Logo & Icon
download logo files as .zip (890KB)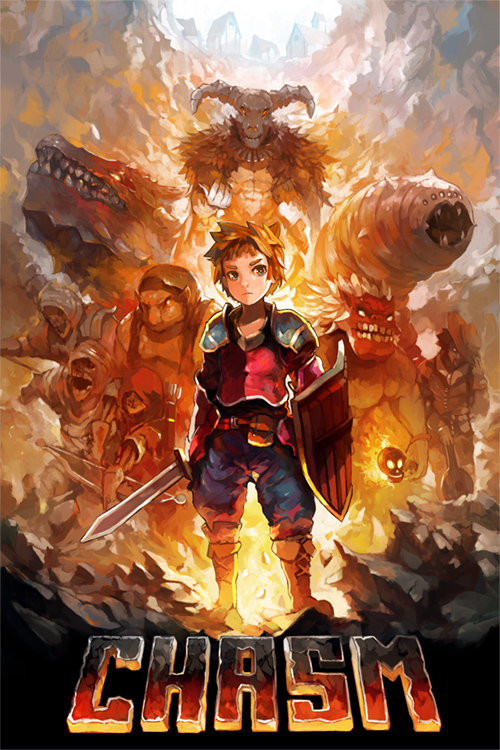 Awards & Recognition
Chasm has not received any awards or recognitions yet. Please check back later to see if things change.
About Bit Kid, Inc.
Boilerplate
Bit Kid, Inc. (formerly Discord Games LLC) is a small game studio founded by James Petruzzi and TIm Dodd in 2011. Our goal is to create exciting new experiences that combine modern game design with classic 2D gameplay. We released our multiplayer 2D shooter "Take Arms" on XBLIG in 2011, and our (formerly unreleased) action-puzzler "48 Chambers" on PC and XBLIG in early 2012. Development of our procedurally-generated RPG platformer "Chasm" began in late 2012. In May 2013, we successfully funded Chasm via Kickstarter and began working on it full-time.
More information
More information on Bit Kid, Inc., our logo & relevant media are available here.
Chasm Credits
James Petruzzi
Director
Tim Dodd
Programming
James Stevulak
Audio Production
Dan Fessler
Environment Art
Tony Redmer
Environment Art
Glauber Kotaki
Animations
Contact
presskit() by Rami Ismail (Vlambeer) - also thanks to these fine folks