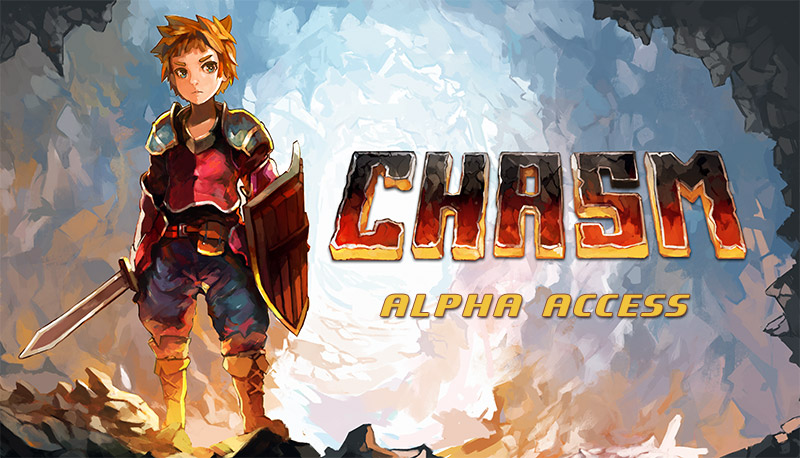 What To Expect When You're Expecting Chasm Alpha Access
Woah – it's almost that time everyone! We're super excited to get out the first alpha build of Chasm for everyone to check out. We know there's a lot of questions, so we've tried to compile everything together here for reference. Let's do it!
Q. When is it coming?!
The keys will be released on your Humble downloads page at 1PM EST on September 18th.
Q. How do I get it?
To get your Steam key, enter your Kickstarter or Humble pre-order email address on the Humble Key Resender. They will send you a link to the page that contains your Chasm downloads.
Q. What's all included?
The initial release will contain the first two of the game's six total areas. Our goal is to get out the remaining areas at the pace of around one a month throughout the fall and winter. The initial release includes both Normal and Hardcore game modes (no Leaderboard support yet though).
Q. What platforms is it playable on?
Windows, Mac, Linux, and Steambox should all work just fine.
Q. Is it DRM-free?
No, you will need Steam to participate in the alpha. The final release will however go out as both DRM-Free and Steam.
Q. I didn't back the Kickstarter, can I still get in on it?
Yep! The Silver pre-order at chasmgame.com will allow you to jump right in on the fun.
Q. Can I livestream/Youtube/podcast/VHS/GIF it?
Yep! We just ask that you please let your audience know what they're watching is technically pre-alpha, and that there's probably unfinished stuff that will most likely change at some point.