Fan Art Contest
So we thought we'd kick the last week off with a bang. To get everyone more involved, we're holding a Fan Art contest!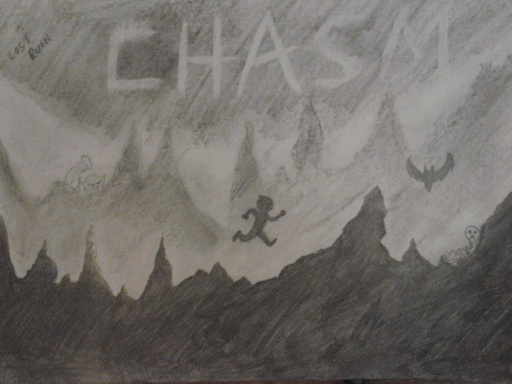 Draw, pixel, or paint your own original piece of fan art relating to Chasm, and then email it to us at the address below before the deadline. Our top three picks will be featured in the Chasm Compendium and receive an awesome T-shirt, and one lucky Grand Prize winner will receive everything in the $500 Tier!
Rules
Limit one entry per person.
Entries will be accepted from now until May 9, 2013, 11:59p.m. US Eastern Time.
Email contest@discordgames.com with your entry, and please include your full name.
By entering this art competition, you are granting us a non-exclusive perpetual license to reproduce images of your artwork.
Winners will be announced on May 11th, 2013 at 2p.m. US Eastern Time.
All entries will be displayed in a public gallery, and be featured in the official Chasm Compendium.
Second and Third place winners will receive a Chasm T-shirt.
One Grand prize winner chosen will receive everything in the $500 tier which includes: a DRM-free copy of Chasm when it is released on Windows, Mac and Linux ● Exclusive sword "Gildian Blade" ● Early Access ● Access to the private Developer forum to help us improve the game ● Exclusive sword "Vipera Blade" ● A digital copy of the soundtrack ● An extra copy of the finished game for a friend ● Chasm Compendium PDF (game art, development notes, strategy guide and tabletop gaming module) ● Exclusive Blue Canary familiar to help you ● Exclusive Elven Sword and Necklace ● A thank you in the game's credits ● Kickstarter-exclusive American Apparel Chasm T-Shirt ● Main Cast Sticker Set (5) ● Limited Edition Chasm Magnet ● Signed full-color 10×8″ Hardback copy of the Chasm Compendium ● Enemy Sticker Set (5) ● 1″ 'Status Effect' Button Pin Set (4) ● One of our talented artists will design a fully-animated pixelized character of you based upon a photo that you send us. You will be e-mailed a digital version to use as your avatar on your favorite social media sites!
Specs
There is no size or style restriction.
No restriction on subject matter, just please keep it clean and Chasm-related.
Art will be judged by the team on awesome factor.
Now get to it!